Are you looking for a side dish easy to prepare, but tasty and delicious? Brussels sprouts sautéed with bacon fully satisfy these characteristics: the recipe is very easy and thanks to the bacon this dish has a lot of flavor. Prepared this way, perhaps the Brussels sprouts will appeal also to children!
Difficulty: EASY
Time: 45 MINUTES
Portion: for 4 servings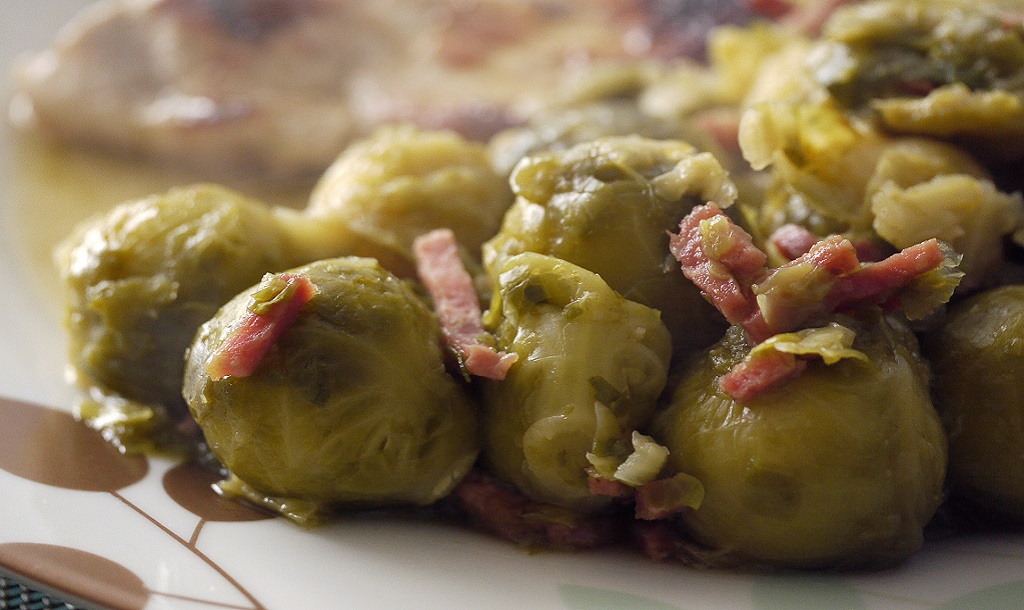 Ingredients for 4 people:
800 g of Brussels sprouts
150 g of smoked bacon into cubes or strips
Extra virgin olive oil as needed
1 tablespoon chopped parsley
Salt as needed
Pepper as needed
Directions:
Clean the sprouts by removing the first leaves, then wash them well under running water. Place them in the steamer basket and cook for about fifteen minutes or until they become soft on the inside.
When the Brussels sprouts are finally ready, remove them from the steam and keep them aside momentarily.
Heat a little oil in a pan and add the bacon that was previously cut into small pieces, then let it sweat over low heat for 5-6 minutes. Add the Brussels sprouts in the pan, raise the heat temperature and sauté for 2-3 minutes. After cooking, season with salt and pepper and sprinkle with chopped parsley, then serve the dish and enjoy.

Tips:

Choose small Brussels sprouts (the ideal is that they are all more or less the same size, so they will cook evenly), firm and free of yellow leaves.
Ideas and variations
If you prefer, instead of cooking them steamed, you can boil the sprouts in boiling salted water for 25 minutes.
For a touch of extra flavor, complete this side dish by spreading flakes of fresh pecorino or parmesan on top of the Brussels sprouts.
This is a classic recipe dedicated to all the Brussels sprouts lovers out there…. I am one of them!